BTS: Protect Jungkook trends after fans suspect spread of malicious gossip
BTS: Protect Jungkook trends after fans suspect spread of malicious gossip; Kim Taehyung, Min Yoongi also under threat?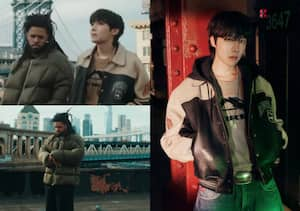 BTS fans are known to be very watchful. ARMY keeps an eye on social media accounts spreading slander about the Bangtan Boys. As we know, fan wars in the K-Pop world can be rather nasty. Sometimes, fans of rival groups mobilize themselves to drag down other idols by spreading fake news and nasty gossip. While some of it is quite harmless, others can have disastrous consequences. K-Pop agencies have become quite strict on dealing with such issues given the trauma it can cause to an artiste. Needless to say, the popular ones are more under the radar of such online bullies. Fans of Jungkook, Kim Taehyung aka V, and Min Yoongi are on alert since morning as they have noticed something untoward on social media
JUNGKOOK FANS ASK BIG HIT MUSIC TO TAKE NOTICE

Fans of Jungkook have noticed that certain accounts are talking about how to defame him. Given how much antis work on online platforms to tarnish the reputation of a rival idol, fans tend to report such incidents. Jungkook and BTS fans have noticed certain groups who are identified as fans of certain members of a group. They tend to degrade others and uplift their faves. Since morning, they are tagging Big Hit Music and HYBE to ensure that swift action is taken in the matter. It looks like Kim Taehyung and Min Yoongi aka SUGA is also under the observation of such haters. Some fans have also tagged Bang PD as it involves the BTS members
ifans don't understand how serious this situation is. even ot7 Korean accounts are now speaking out about this. what these kpjms have done since 2017 is criminal. they create false scandals (such as the back door ad one) and organize amongst themselves ways to spread this to https://t.co/PP364PreCo — . (@pedr_ii) April 28, 2023
Jungkook and Taehyung are both working on their albums. Yoongi is getting rave review for his D DAY album and Tour. BTS ARMY surely knows how to watch over the boys and potential troublemakers.
What's Your Reaction?